Tropical meringue
Ingredients
5 eggs, separated
100 g super-fine sugar
2 teaspoons cornstarch, sieved
1 mango
4 passion fruit
1 papaya
1 pineapple
1 teaspoon lemon juice
½ tablespoon powdered sugar
200 ml whipped cream
Parchment paper
Chocolate to garnish
Directions
Separate the eggs and then put the egg whites in a clean, grease-free bowl. Beat the egg white until fluffy with a mixer or in the food processor and gradually add the cornstarch and 80 g sugar. The egg whites are ready when they form peaks.
Take two sheets of parchment paper and cut to size for your Airfryer grill pan. Spoon the egg white onto the two sheets of parchment paper. Dry these one by one in the Airfryer, for 60 minutes at 100 degrees. Remove and let the dried egg white cool for 5 minutes, then carefully remove from the parchment paper. Place the egg white upside down and let it dry.
Chop the papaya, mango and pineapple into very small cubes and keep 100 g of each in a separate container. This is the garnish. Puree the rest of the fruit, the contents of two passion fruits and lemon juice with your hand blender to produce a coulis.
Whip the cream with 20 g sugar until stiff and transfer to a piping bag with star nozzle. Place the remaining fruit on the meringue and drizzle with the coulis. Garnish the tropical meringue with whipped cream and powdered sugar.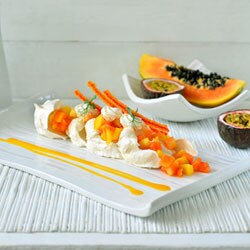 Our site can best be viewed with the latest version of Microsoft Edge, Google Chrome or Firefox.