Philips Support
My Philips TV is not responding to the remote control
Published on 2016-12-29
No batteries in the remote control, empty batteries or batteries not installed correctly.
Ensure batteries are installed according to the illustration in the battery compartment. If they are, replace the batteries using two 1.5 V AA batteries (type R6). When using rechargeable batteries, the range of the remote control will be reduced due to lower (1.2 V) voltage. Rechargeable batteries auto-discharge and thus deplete more quickly.
Note:
Obstruction between the display and the remote control may impede its function
Make sure the remote control is pointed to remote control sensor on the display
Some buttons have no or limited functions in certain modes
The remote control must operate within the operating range of 7 meters (25 feet)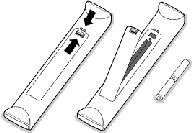 Our site can best be viewed with the latest version of Microsoft Edge, Google Chrome or Firefox.