Appetizer – 4 portions
Servings
4 persons,
Preparation time
10 minutes,
Cooking time:
15 minutes
Ingredients
250 g waxy potatoes, peeled
1 tablespoon chives, finely chopped
Freshly ground black pepper
2 tablespoons sour cream
100 g smoked salmon
Directions
Preheat the AirFryer to 180°C. Coarsely grate the potatoes into a bowl and add three-quarters of the chives and salt and pepper to taste. Mix well.
Grease a pizza pan with olive oil and distribute the potato mixture evenly in the pan. Press the grated potatoes into the pan and brush the top of the potato cake with olive oil.
Place the pizza pan in the fryer basket and slide the basket into the AirFryer. Set the timer to 15 minutes and fry the rösti until it is nicely browned on the outside and soft and done on the inside.
Cut the rösti into 4 quarters and place each quarter on a plate. Garnish with a spoonful of sour cream and put the slices of salmon on the plate next to the rösti. Sprinkle the rest of the chives over the sour cream and add a touch of ground pepper.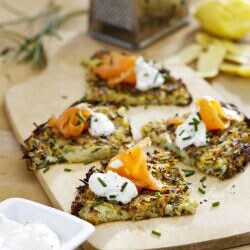 You are about to visit a Philips global content page
Continue
You are about to visit the Philips USA website.
I understand
Our site can best be viewed with the latest version of Microsoft Edge, Google Chrome or Firefox.